When it comes to setting up your craft room, you need a room that fits your needs. Do you need everything to have a place, or do you prefer to see all your tools out? Having your room setup with your preferences in mind will help boost your creativity and improve your focus. Whether you are setting up a craft room for the first time or just need a refresh to get you motivated again, we have some inspiration ideas for you. The below pictures are some craft room inspirations sourced from Houzz.com to get you started, but there are many more! Of these, which is your favorite and why?
1 Sewing Room Idea
This room has so much organized storage and still maintains simplicity. It also looks like this could fit in any space whether big or small and allows for the rollout table.
Photo by The Container Store – Look for home office design inspiration
2 Sewing Room Idea
I like the layout of this room and the fact that it looks like everything is within reach. You can see all your materials, but it still looks tidy and allows for lots of workspace.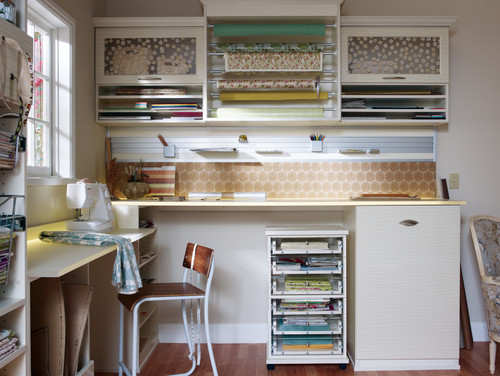 3 Knitting Room Idea
Love the personalization and the yarn storage of this room! Such a fun idea to find a unique cabinet and use that for the yarn. Hope there is a comfy chair in the corner for some knitting as well.
Photo by – More home office photos
4 Crafting Room Idea
Lots of storage and lots of color on this one! The center table allows you to move around it with ease and looks like it would be a good working height if you are tired of sitting.
Photo by Sundance Homes – Look for home office design inspiration
5 Crafting Room Idea
All the options and storage for a variety of crafts here! Could definitely pick up some storage tips from this one and find uses for all the extra jars we seem to have around.
Photo by Adrienne DeRosa – More home office ideas
6 Sewing Room Idea
Love this room for sewing with the bright light, storage options and all the workspaces. Very simple and clean with all the tools and supplies tucked away.
Photo by Timberidge Custom Homes – Browse home office photos
7 Sewing Room Idea
Cute little corner for sewing!
Photo by Павел Норицын – Search home office pictures
8 Crafting Room Idea
Example of a mid-sized trendy built-in desk craft room that maximizes the space.
9 Crafting Room Idea
This one is described as "a junk room turned craft room" which I think could be really helpful for a quick refresh and some re-organization. Craft rooms easily get a little out of hand as projects come and go so this option offers some good ideas to get your space back in order.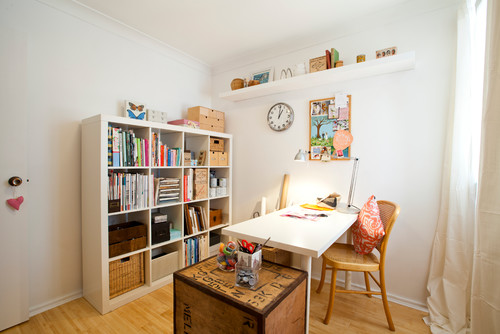 10 Crafting Room Idea
This one has a lot of great organization ideas and is more of how I personally imagine a lot of craft rooms! So many tools and supplies that just need to be stored properly. Even the owner considers it the "mess" room but has an organization system to store it all. Take your time to look closely at this one and find a new idea for your space!